2023 NEW MODEL - P-SB7T Spirit Box® (Rev 6) With Temperature Display
Regular price
$192.00 AUD
Regular price
Sale price
$192.00 AUD
Unit price
per
Sale
Sold out
Designed by Gary Galka of DAS Distribution, the Model P-SB7T Spirit Box® is the first production built Spirit Box designed exclusively for Paranormal enthusiasts. The P-SB7T Spirit Box® made its premier debut on Ghost Adventures "LIVE" show from the Trans-Allegheny Lunatic Asylum on October 30, 2009.
From the moment it was turned ON, The P-SB7T Spirit Box® provided "real time" responses to questions over a 40 minute segment of the show.
When used by a properly trained individual, under certain circumstances, the P-SB7T Spirit Box® will provide results similar that of an EVP recorder, but in real time. Since then, it has become very popular and can be seen frequently on Ghost Adventures where Zak Bagans continues to receive consistent relevant responses to specific questions.
The P-SB7T Spirit Box® utilizes a milli-second adjustable Forward or Reverse frequency "sweep" technique coupled with a proprietary high frequency synthetic noise or "white noise" distributed between frequency steps.
The P-SB7T Spirit Box® is intended to be used by professional investigators to help promote the field of Paranormal ITC Research and offers a six step adjustable sweep rate that provides user flexibility based on individual technique and session circumstances. A bright Red (670nm) back light display with manual ON/OFF select is ideal for viewing in the dark.

The P-SB7T Spirit Box® uses three "AAA" batteries (included).
 Ear Buds are also included. A USB charging cable is available as an optional accessory to extend useage between battery changes.
The P-SB7T Spirit Box® is a fantastic new tool for Paranormal Investigators worldwide! This unit has been modified from the previous P-SB7 model by adding a Red LED Backlight display and increasing
Specifications

Multi-Function Spirit Box
Integrated Temperature Measurement with Ambient and Temperature Deviation Display
Selectable C/F units
User Selectable AM/FM Forward / Reverse Sweep Rates: 100ms, 150ms, 200ms, 250ms, 300ms, 350ms
Real Time Volume Adjustment
250mW Speaker Output
15mW Earphone Output
High Intensity Mini Built-in Flashlight
Red (670nm) Backlight LCD with Manual ON/OFF Control
Power: (3) AAA Alkaline Batteries (Included)
1 year warranty
Share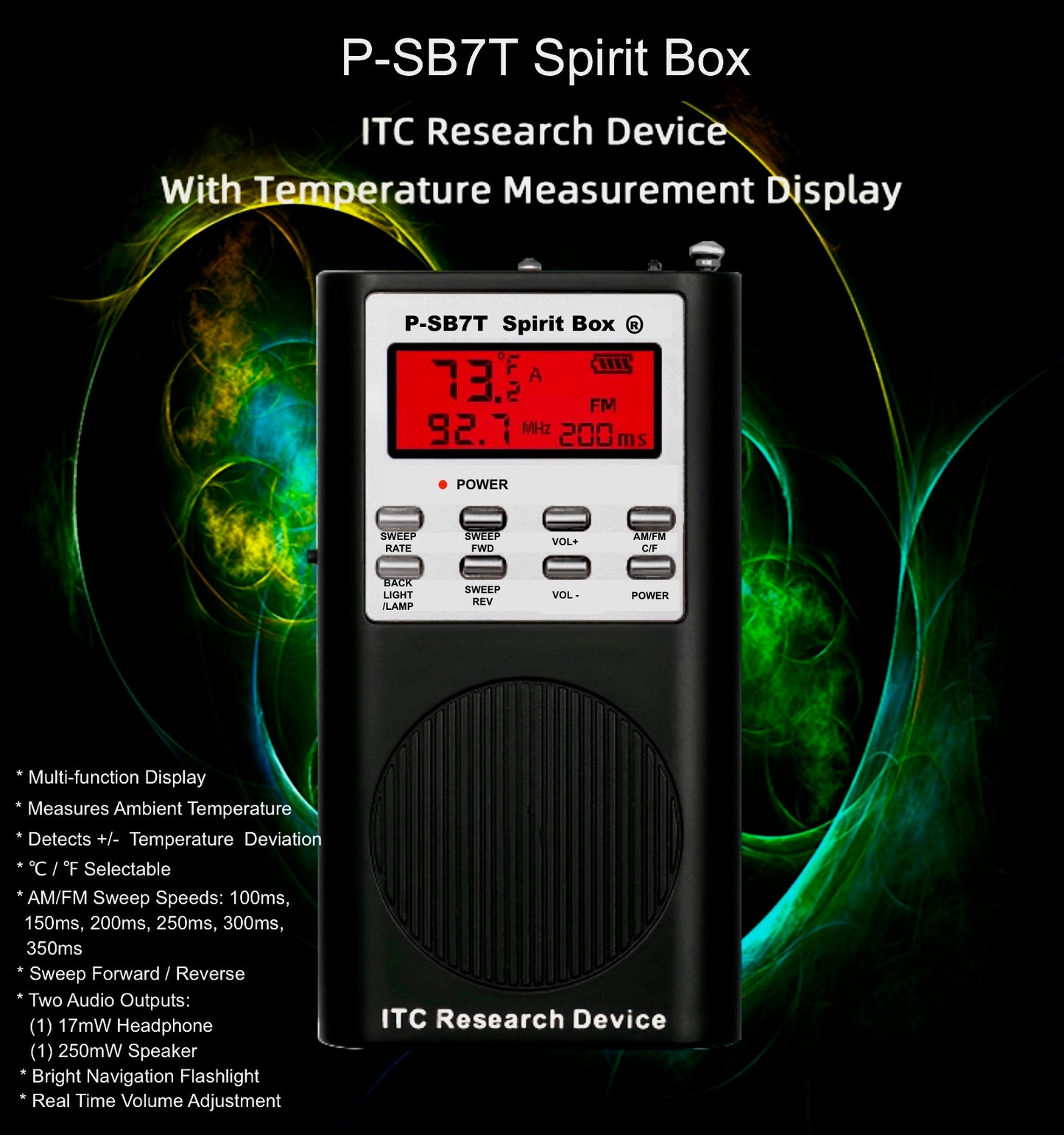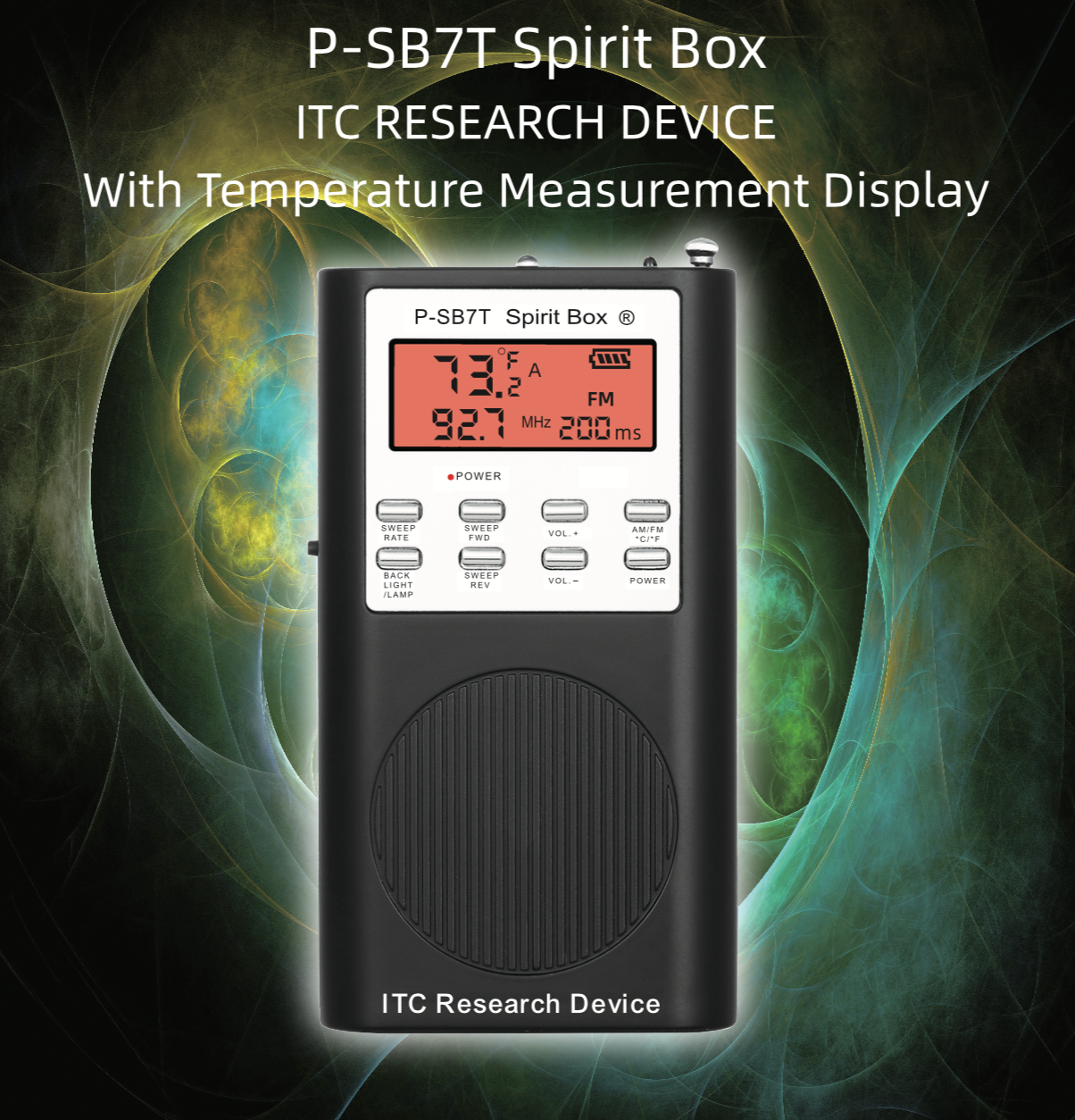 Australian Supplier
OzParaTech is based in the Central Coast region of New South Wales. By purchasing from us, you enjoy Australian support, rapid shipping timeframes and are helping an Australian small business. We appreciate your support and feel free to tell your friends about OzParaTech!