MEL-8704R-REM-SDD
Regular price
$399.00 AUD
Regular price
Sale price
$399.00 AUD
Unit price
per
Sale
Sold out
AFTERPAY AVAILABLE AT CHECKOUT
The following items are included
FREE

with this product:

In addition to detecting AC/DC EMF & ambient Temperature changes in the environment, this device also uses a mini telescopic antenna to radiate its own independent Magnetic Field around the instrument. This EM field can be easily influenced by materials and objects that conduct electricity. Based on source proximity, strength and EM field distortion...(4) Multi-Colored LED lights can be activated in any order or combination. This device also includes our popular SDD Shadow Detection Audible Alarm circuit. This new feature is intended to further help promote and advance Paranormal research.
Mel-8704R-REM-SDD
Measures EMF, Ambient Temperature, and Shadow Detection (SDD) simultaneously.
EMF "Burst" (100msec) mode feature for rapid EMF fluctuation
EMF Min/Max capture
Rapid response ambient temperature measurement
Temperature min/max capture
Includes manual temperature baseline correction and auto mute.
Red night view Backlight Display with On/Off Button
High intensity Red Flashlight
Glow in The Dark Push Buttons - Must be charged under a bright light for 5 minutes prior to use
Includes exclusive SDD shadow detection with adjustable sensitivity detects subtle light level variations in the environment.
Includes: (1) 9Vdc Alkaline battery
Includes: (2) Illumination light sources to create light contrast variations
PRICE INCLUDES 10% GST
Share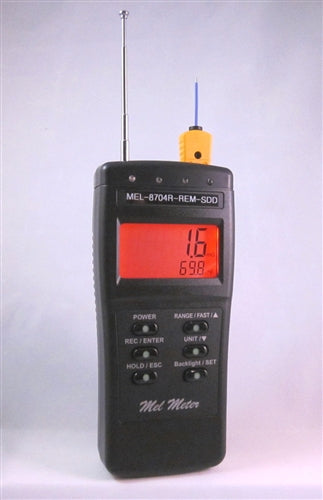 Australian Supplier
OzParaTech is based in the Central Coast region of New South Wales. By purchasing from us, you enjoy Australian support, rapid shipping timeframes and are helping an Australian small business. We appreciate your support and feel free to tell your friends about OzParaTech!