NEW PHASM Full Spectrum + Night Vision + CONTROL
Regular price
$145.00 AUD
Regular price
Sale price
$145.00 AUD
Unit price
per
Sale
Sold out
AFTERPAY AVAILABLE AT CHECKOUT
Night vision + full spectrum + total control
I am so excited to be able to stock this item! Please note, VERY limited stock, and we are not sure when we can get more because the demand is SO high!
This is not your ordinary night vision camera light.  Phasm is unique, and the first and only light to offer so many lighting options in one compact device. Whether you need infrared for night vision, ultraviolet, various colors or all of those at the same time for one stunning blanket of light, this  PHASM light does it all. Controls on the back provide the ability to easily adjust which lights to use and adjust brightness. Its unique mounting system allows you attach the light to a standard tripod or bracket but also magnetize to anything metal for awesome flexibility. You can even snap multiple Phasm lights together to create a beastly stack of illumination and name it, 'MegaLight'.
Night vision plus...
Full spectrum light

Infrared night vision, ultraviolet and visible color

Full control over light selection, brightness and color

Wide angle spread for ultimate light coverage

Unique magnetic and tripod mounting system

Rechargeable battery and plug for unlimited power
Stunning light and options in a compact package.
You'll be amazed by the brightness this light can project from a device that fits in the palm of your hand. Phasm is packed with 65 high power light emitting diodes (LED) that throw a powerful punch of infrared (IR), ultraviolet (UV) and visible color (RGB) light.

The Phasm light utilizes ultra wide angle LEDs in order to cover the entire camera area with no problem. This means no more 'spot' effect and even brightness from edge to edge of your picture.
Many light combinations. One awesome package.
You are in control.
Phasm gives you full control with one light that does it all. Sometimes you just want to use infrared for night vision. Maybe you want to blanket the room with color. Other times you may want to take full advantage of full spectrum. Now you can do it all with one light.
Back Controls
Infrared on/off switch

Ultraviolet on/off switch

Brightness slider

Color selector switch

Power button
Settings Display Screen
Infrared light status

Ultraviolet

light status

Brightness percentage (0-100%)

Color selection display

Battery status and charging indicator
Magnetic mounting beyond the tripod.
Firstly, yes you can mount this light to a standard tripod or bracket. We have included a standard metal threaded mount on the bottom for securely attaching to a typical tripod or threaded bracket. But that's where 'standard' ends.

Phasm utilizes an array of powerful magnets on each side, top and bottom for ultimate mounting flexibility. This magnetic system allows you to secure multiple lights together if you want supreme multi-light power. Built-in powerful magnets snap Phasm lights together for a secure grip with no hassle. You can mount the light to any magnetic surface like a refrigerator, window frame, air vent, car door or one of those magnetic phone mounts. This proves handy in cases where you don't have a tripod available or the flexibility of using tape to mount things on location. Just find a metal surface, zap Phasm into place and go.


Rechargeable power.
Camera lights are one of the biggest battery eaters, especially for ghost hunters. As investigators, we use lights for hours on end and infrared light is a huge drain on power. Phasm is out to change that. This light utilizes technology to intelligently access the most light power possible with light management, battery life indication and simple recharging. Since Phasm utilizes a standard USB port for charging, you can plug it into any USB for a quick charge. It will even work while plugged into an outlet or USB battery pack for unlimited use.
*NOTE: The infrared (IR) light on this product are virtually invisible to the naked eye. To take advantage of night vision capabilities, you must have a full spectrum or night vision camera.
Share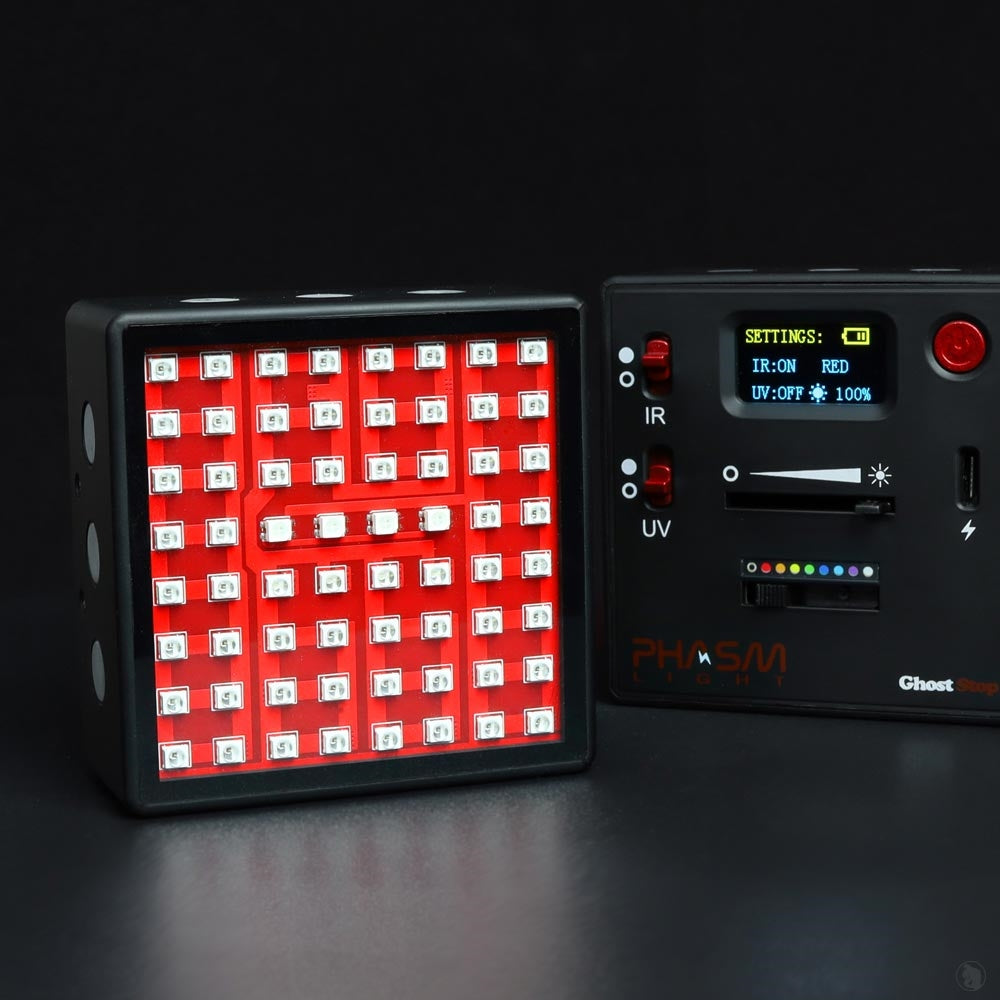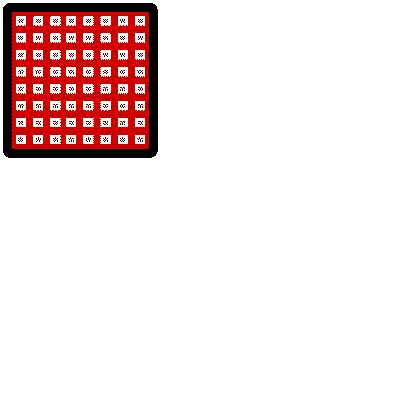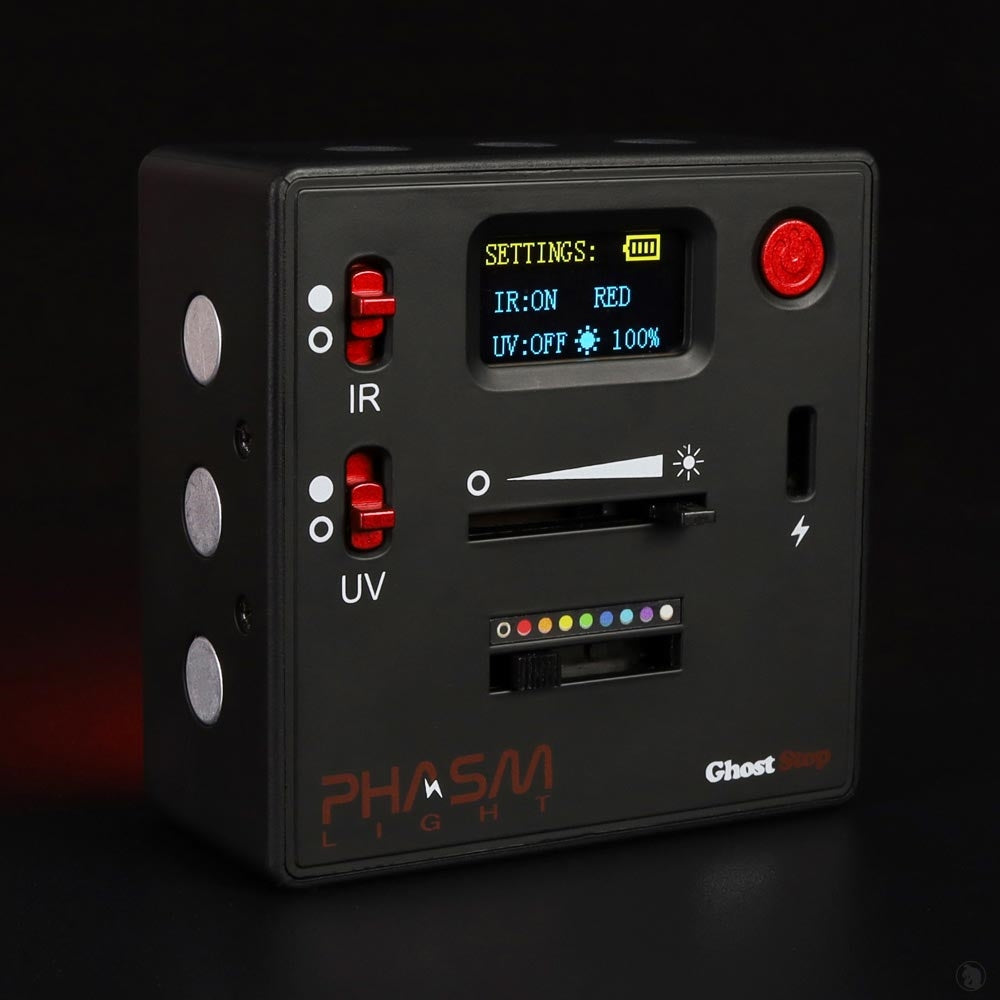 Australian Supplier
OzParaTech is based in the Central Coast region of New South Wales. By purchasing from us, you enjoy Australian support, rapid shipping timeframes and are helping an Australian small business. We appreciate your support and feel free to tell your friends about OzParaTech!