Onvoy Ghost/Spirit Box Communicator
Regular price
$698.00 AUD
Regular price
Sale price
$698.00 AUD
Unit price
per
Sale
Sold out
Onvoy Ghost/Spirit Box Communicator
Your messenger, on a mission, to the other side.
You love the Ovilus? What till you see the Onvoy!
(Price includes GST)
This has been specifically designed for paranormal investigations and ghost hunting. The device presents entities with a simple and flexible way to communicate with paranormal investigators. Onvoy offers the ability to deliver words, phrases, numbers, emotions and yes or no answers through  simple, transparent and documentable methods.
FEATURES
Offers ghosts/spirits/entities an simple way to communicate
Displays words, numbers, yes/no and icons
Scans the environment for spikes in EMF, temperature and touch
a well lit display, indicator lights and audio alert
The ability to control sensors, speed and sensitivity
Rechargeable, long lasting battery
Communicate simply
Just a simple touch, energy spike or temperature change allows for open-ended communication with no word databanks or complicated code for entities to navigate. By employing practices we theorize ghosts may already be familiar with, this device puts those learned tools to work. Through basic touch or tapping, magnetic fluctuations and temperature swings, spirits can now articulate their connections with us. In turn, we learn from them what methods suit best.
Let the environment speak.
Onvoy gets to work scanning through a set of diverse choices. While that's happening, there are multiple sensors looking for environmental changes. As soon as a spike occurs, it makes a selection with an audio alert, displays it on the screen and lets us know which sensor was triggered.
Words, numbers, icons......
Beyond the dictionary.
As you work to communicate, words or phrases may develop that can be noted as potential responses during your investigations. The flexibility of this technique allows for delivery of names, abbreviations, other languages and even slang - going well beyond the boundaries of a dictionary. Being able to see which sensor was used provides transparency and aids us in learning which method might be the preferred option for each investigation or even location.
Control in your hands.
Choose how you want to interact with five modes including a set of letters, numbers, icons, yes/no selector and a display of readings plus full control over scanning speed and sensitivity of each sensor.
You can adjust the speed at which it scans and sensitivity of each sensor, independently.
Transparency at its core.
This tool is uniquely simple for ghosts to interact with. You can even produce words yourself to demonstrate how easy and effective it can be. By simply tapping the device you can demonstrate, to ghosts, how easily they can communicate with us.
The purpose of this straightforward approach is so that we, as investigators, can see how each selection is made. Other devices, apps and software that use word databases and complex formulas to manifest a word force an entity to learn the intricacies of these systems. If we, as humans, cannot make it say a specific word, how can we expect a ghost to?
Onvoy is here to evolve that methodology.
By simplifying and making this process more clear, Onvoy presents a more transparent and documentable technique for learning in many ways. Ghosts, who we mean to communicate with, will learn an easier way to interact and WE will learn what methodology they prefer. All the while, Onvoy provides a more simple and completely transparent process for the sake of ease, documentation and learning.
TECHNICAL SPECS
Rechargeable long-life battery over 20 hours
Adjustable sensitivity on all sensors
Adjustable scanning
Various LED lights for visible indicators
Audio alert tone for event notification
Display screen
Mode select switch
USB port for charging or unlimited power
Metal tripod mount on the bottom for easy placement or mounting
Scanning speed from ~

100 letters per minute to ~600 letters per minute

Onvoy Size: 3"w x 5"h x 2.75"d

Display screen size: 1.8"w x .75"h

EMF sensor is 'natural' magnetic only (to fortify from most man-made interference like phones and walkies). Magnetic flux density sensing up to ±160 mT.
Battery Life
The built in battery lasts over 20 hours of continuous use on a single charge. Battery life is highly dependent on scanning speed and how many events are triggered. It can be recharged using any USB charger including a mobile USB battery pack for a quick boost. Carry it with a battery pack or plug it into a wall outlet for unlimited use. It's easy, quick and saves money on batteries. 
Includes
Onvoy
USB charging/power cable
DIRECTIONS
QUICK START GUIDE

Charge before use. (see charging instructions)
Turn device on by turning the ON/OFF knob clockwise.
Keep turning to select the desired Mode.
Turn device off by turning the ON/OFF knob counter-clockwise until it clicks off.
POWER & CHARGING
Using the USB cable provided, plug it into any USB or AC outlet (with the provided AC/USB adapter) to begin charging.

Red light near the USB port = Charging
Green light near the USB port = Fully Charged

A fully-charged battery will last over 20 hours depending on settings.
Charging will take about 1 hour
Device can be used while it's charging for unlimited use via wall outlet adapter or USB battery pack. A USB battery pack is handy so you can use the device and continue charging all while being completely mobile.
MODES
To change modes turn the On/Off Mode Select turning knob. When switching modes you will see each Mode represented on the Display. It may take a moment to switch modes depending on your Speed selection.
Alphabet Mode: This mode is used for collecting a set of letters in the English/Latin alphabet (A-Z)
Yes / No Mode: This mode is used for gathering a Yes / No response.
Number Mode: This mode is used for collecting numeric responses (0-9)
Icon Mode: This mode allows for displaying icons representing emotions (examples: Happy, Sad, Angry).
Sensor Detail: This mode allows you to see life readings from each sensor and sensitivity setting for each.
SCANNING
Onvoy will scan through a set of letters, yes/no, numbers and icons. While scanning you will see a selector box over each choice allowing an entity an opportunity to select one of their choice with proper timing.
While that is happening, multiple environmental sensors are looking for spikes in EMF (magnetic), temperature or a tap. When a spike is detected, a choice is made from the screen and displayed to the right. In alphabet mode, a collection of the last 11 letters is stored in the bottom row. Once that row is full it will return to the beginning and start overwriting. As a good practice, it would be helpful to note down any words that come up as much as you can because Onvoy does not store more than 11 letters.
SETTINGS
Onvoy lets you adjust to the environment which can vary each investigation location. You can adjust the speed at which it scans and sensitivity of each sensor.
Scanning Speed:

 

Move the slider button left or right to adjust how fast you wish the selector screen to scan. This also determines how fast or slow the sensors take readings. Move the slider left for slower scans or right for faster scans.
Sensor Sensitivity:

 

Each sensor (EMF, Temperature and Tap) have independent sensitivity adjustment knobs. Turn the dial down/bottom for OFF or turn it clockwise for greater sensitivity. The light above each sensor knob will light up red with a brightness associated with the sensitivity setting. For example, down (or OFF) the light will be off. As you turn the sensitivity higher the it will light up a dim red and then a brighter red as the sensitivity is higher. This is a great visible indicator or sensitivity in the dark.
Sensor Detail Screen:

 

The last Mode allows you to see what sensitivity setting each sensor is set to on a scale of 0 (OFF) to 9 (highest sensitivity).
INDICATORS
In addition to the display screen, Onvoy utilizes various LED lights to help indicate events and settings.

Event Arc:

 

The lighted arc in the center of the device will light up red to indicate scanning speed. The middle will blink red each time it moves to the next selection and sensor reading. A slower scanning speed will be represented by a slow blinking and faster speeds will blink faster for each loop. This arc will light up full white each time an event trigger occurs alerting you to check the display for a selection.
Sensor Lights:

 

Each sensor (EMF, Temperature and Tap) has an independent light to indicate sensitivity and event triggers. If the sensor is turned off, the correlating light will be off. It will be lit red when the sensor is turned on and brightness will indicate sensor sensitivity. This light will illuminate in white to indicate a trigger occurred on that sensor.
FREQUENTLY ASKED QUESTIONS
Does Onvoy talk or speak words audibly?
No. Onvoy does not talk or speak words aloud. Doing so would limit the output to recognizeable words. The Onvoy is intended to break beyond this restraint.
Does Onvoy save the words?
Onvoy will only show up to 11 letters while in Alphabet Mode. Once the 12th character is selected, it will overwrite the first one to the left and begin replacing the whole row. As such, it does not save words. We highly suggest noting anything relelvant as the pop up or placing a camera on Onvoy to document the results.
How long does the battery last?
This depends highly on the settings and amount of times it is triggered. But on some of our tests, we have had it running for over 20 hours on a single charge.
Share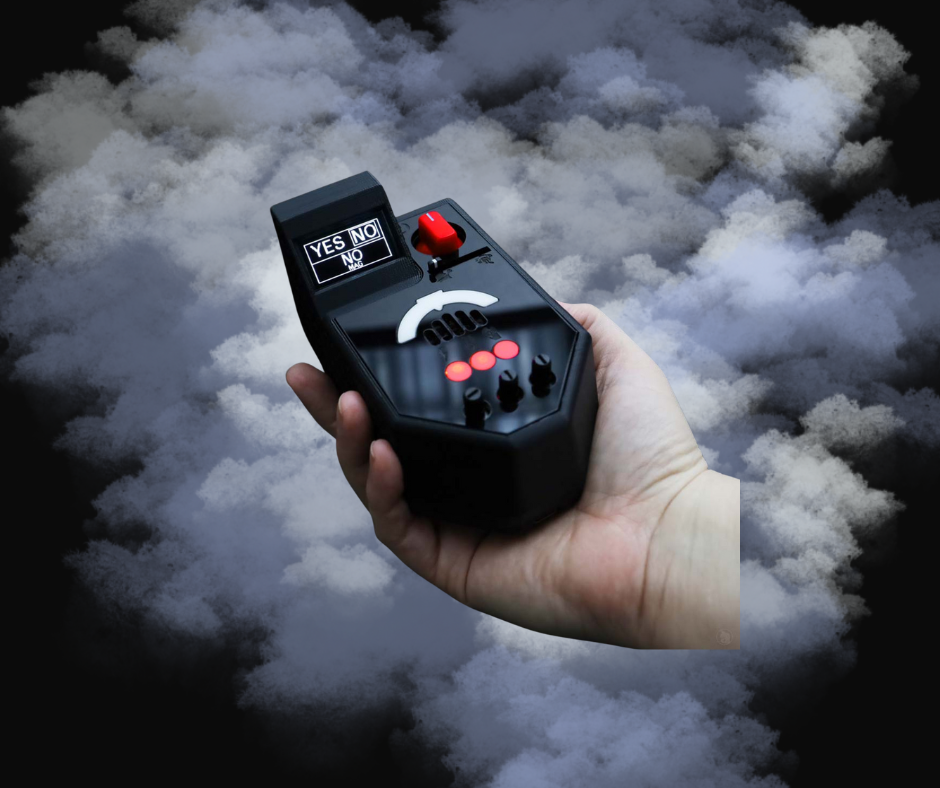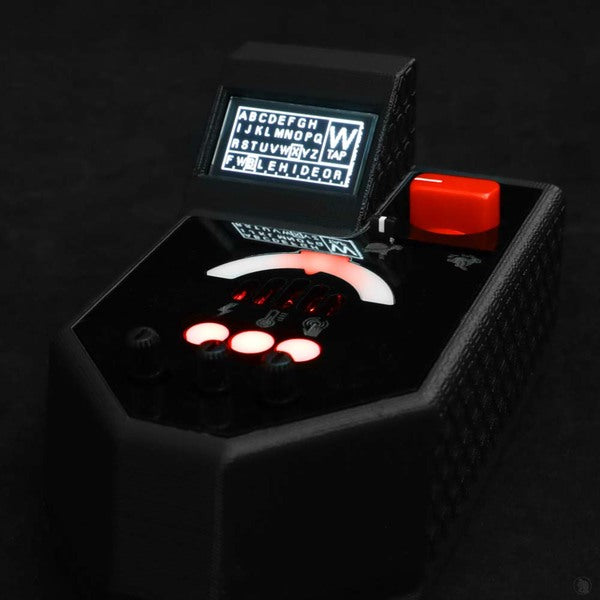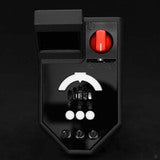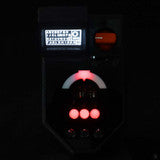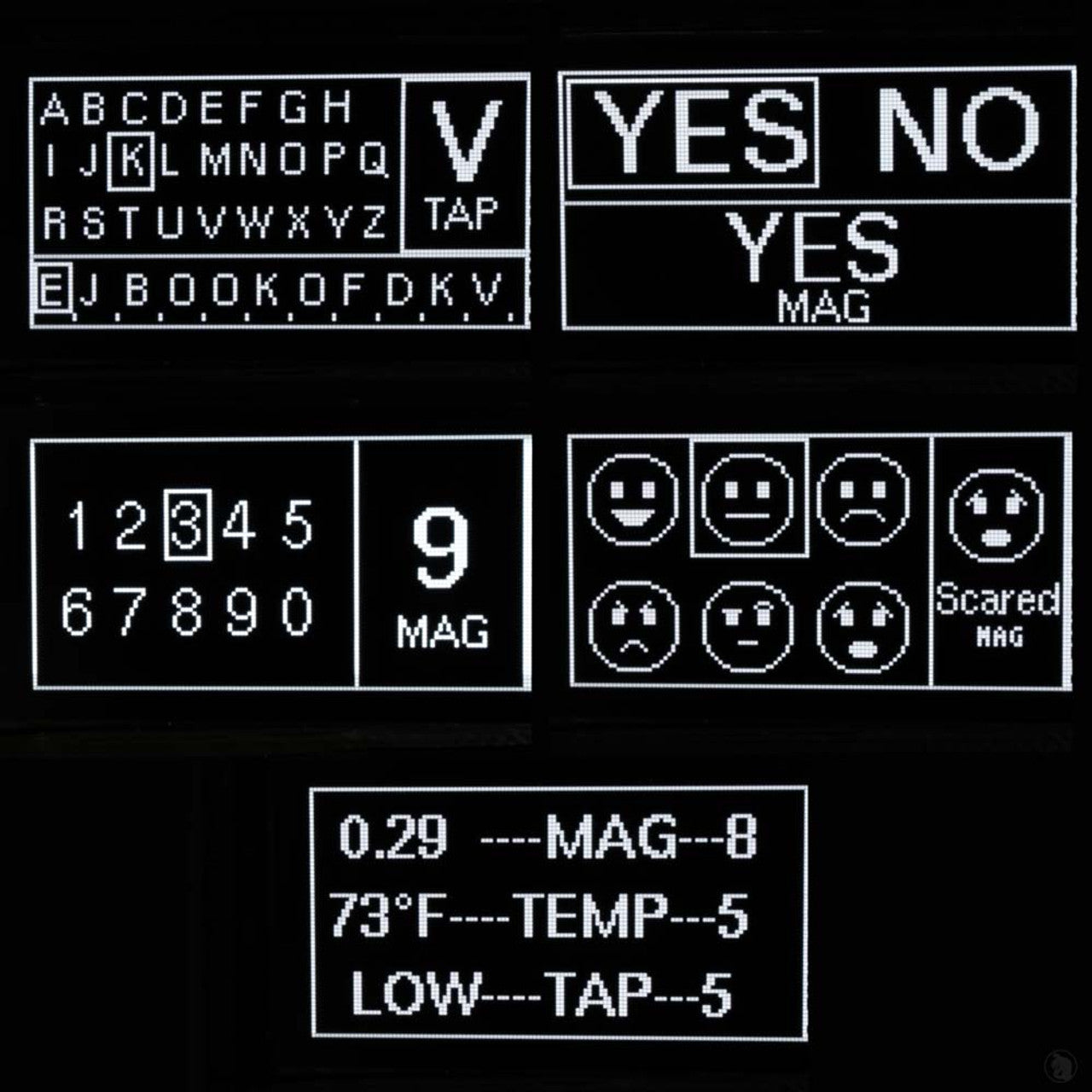 Australian Supplier
OzParaTech is based in the Central Coast region of New South Wales. By purchasing from us, you enjoy Australian support, rapid shipping timeframes and are helping an Australian small business. We appreciate your support and feel free to tell your friends about OzParaTech!